5 Quality Metrics Linked to Layered Process Audits
Some manufacturers conduct layered process audits (LPAs) to satisfy customer-specific requirements, while others do so as part of a holistic approach to improving plant performance.  
Those in the latter group are more likely to see results from these daily audits, which verify manufacturing inputs to reduce process nonconformances and defects. 
While LPAs aren't a cure-all, they do impact things like adherence to standards and holding continuous improvement and problem-solving measures in place. As manufacturers improve in these areas, they often see improvement in other quality key performance indicators (KPIs). 
Because of this, we at The Luminous Group encourage clients to monitor LPA metrics like on-time audit completion and the number of open findings. When those metrics show a healthy LPA program, companies will often see movement in six to 12 months of the quality KPIs discussed here. 
1. Scrap
One of the metrics most closely linked to LPAs is scrap, owing to the fact that these high-frequency audits identify process errors that lead to production defects. As a result, this can also have a downward influence on the cost of poor quality (CoPQ).  
Reducing scrap is more important than ever in today's manufacturing environment. Material costs are growing, and supply chain bottlenecks have made it difficult to get replacement parts. Given that scrap can total millions in costs for suppliers, even a small reduction in scrap rate can have a large impact on the bottom line.  
2. Customer Complaints
Catching defects before they occur and products are shipped helps reduce customer complaints, returns and warranty costs. The implications are especially important considering the costs of corrective action, which requires significant resources in terms of sorting, replacing parts and more.  
Take, for example, that automotive OEMs charge hefty fees when defective parts lead to a line stoppage—as much as $10,000 per minute in the case of Toyota. What's more, supply chain issues mean that suppliers don't always have extra parts on hand, which can end up hurting their ability to fill other orders.  
3. On-Time Delivery Performance
Delivery performance is highly contingent on quality, and thus another area where proactively preventing defects with LPAs can have an impact. The problem is that when a quality issue forces you to scrap a significant portion of a run, you may not have the parts available for the customer's next shipment. That means not only is the original shipment delayed, but potentially subsequent ones as well.  
4. Safety Metrics
LPA checklists often include safety questions such as those related to personal protective equipment (PPE) usage and hazard identification. By incorporating safety into these daily checks, it increases the chances of identifying safety problems before they cause workplace injuries.  
Just as important, it makes safety a daily habit and responsibility shared by everyone—a key part of a culture of safety. Fewer safety incidents mean not just lower costs, but also improved morale that can have a downstream effect on employee engagement.  
5. Employee Engagement
LPAs provide an avenue for preventing safety incidents, but they also improve engagement by making your team feel valued. When management actually goes to the plant floor to verify processes and ask for feedback, operators know that leadership genuinely cares about their experience.  
The result: people feel safe and valued, and they feel that top management understands their job, making them less likely to seek employment elsewhere. 
Improving engagement in this way shows up in a variety of metrics related to company culture and communication, including: 
Annual morale surveys or engagement survey results

 

Employee turnover rate

 

Retention rate

 

Safety culture survey results

 
It's worth pointing out that some events such as a new product launch, equipment breakdowns or employee turnover can overwhelm the improvements in KPIs driven by LPAs. The important thing is to monitor your LPA program health in terms of metrics like audit completion rate and open findings, a task made far easier with LPA software like EASE.  
If your LPA metrics are in good shape, you can be confident that you're holding standards in place, addressing problems effectively and building a culture of communication and engagement.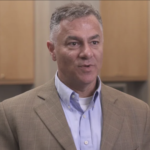 As a senior consultant with The Luminous Group, Richard has more than 18 years of experience in Product Development, Program Management and Manufacturing Management. He has a proven record of success in bringing new technical products to market for clients, a deep knowledge of layered process audits and combines a background in mechanical engineering with a broad knowledge of the global automotive industry.