Why EV Suppliers and Startups Should Implement Layered Process Audits
The electric vehicle (EV) market is growing fast, reaching $163 billion in 2020 and expected to exceed $800 billion by 2030.
However, while new technologies are flourishing, many EV suppliers come from a design or entrepreneurship background rather than manufacturing.
The problem is that even if you have the best technology, it doesn't mean you can bring it to market at the delivery, price and quality that customers need. Making the cut in today's competitive marketplace demands a higher level of process standardization that delivers on quality expectations while reducing costs for suppliers.
In the automotive industry, layered process audit (LPA) programs provide that standardization, with quick checks every shift to reduce variation, defects and complaints.
Here we look at how these audits address supplier quality challenges and  minimize variation that causes defects. We also examine where to begin if you're just getting started, and how a digital solution can help you deploy LPAs faster.  
Quality Challenges of EV Suppliers
At The Luminous Group, one of the biggest quality challenges we see with EV suppliers is they believe they can solve their problems with automation. What they're finding is that automation is part of the solution, but there are still a lot of inputs they must control in order to deliver on OEM quality expectations.
These inputs include:
Materials
Suppliers
Human behavior
Machine variables and variation
The problem is, many suppliers don't have a solution for monitoring these inputs and maintaining them to standard. That's where LPA programs help suppliers be more competitive, reducing variation across the full spectrum of inputs that impact product quality.
LPAs are prevalent in the automotive industry and are specifically required of suppliers by certain OEMs. Thus, those EV suppliers that come to the table with LPAs already in place are more likely to stand out—and win more bids as a result.
Eliminating Variation at the Source
LPAs help suppliers ensure work procedures are followed to minimize production defects and complaints. One example is the well-publicized issue of batteries catching on fire. Batteries shorting out are often a welding issue, a prime target for verification with LPAs.
In conducting LPAs, EV suppliers and startups will want to pay close attention to processes such as:
Machine setup: Are operators doing the preventive maintenance and autonomous maintenance needed to keep the machine at optimal operating condition?
Raw materials: Your suppliers may also be new to the space, and may not have strong quality systems in place. This makes it critical to check for input variation in raw materials.
Method: Even if you're using automated programs, you need to make sure you're running the validated program rather than a developmental or obsolete program. With LPAs, you can check that the machine is running the approved version of the program.
Rework standards: With so much still in development, we see suppliers having to do a huge amount of rework. However, they need to do a better job of defining and enforcing standards for rework. For example, if a burr isn't removed correctly during rework, the stakes are much higher with a high voltage EV if that burr cuts through the vehicle wiring.
Where to Start with LPAs
If you're starting from scratch with LPAs, four areas you'll need to focus on are:
Questions: Writing good LPA questions is the foundation, and should focus on the inputs discussed above. Generic questions and checklists should be avoided.
Schedule: What makes LPAs so effective is that they happen every day on every shift. You'll need to schedule daily audits for plant floor supervisors, while higher levels of management participate on a weekly or monthly basis.
Mitigations: LPA systems fail when you don't have a process in place to correct findings, hurting participation because people then see the audits as a waste of time.
Management reporting: Manufacturers need a way to summarize the data collected for management review.
From Zero to Digital LPAs in 60 Days
With pencil and paper, it can take months to get up and running. An automated platform like EASE can help EV suppliers get up and running in weeks, addressing the key components above and allowing manufacturers to:
Rotate and randomize questions to develop process-specific checklists
Automatically schedule audits, send reminders and notify administrators of skipped audits
Link audit findings to mitigation action items, assign them to responsible parties, set due dates and escalate problems to management
Get instant reporting results via charts and graphs that make it easy to see quality failures by work area
There's an old saying that goes, "If you do what's easy, things get harder; if you do what's hard, things get easier." In manufacturing, taking shortcuts to meet production deadlines makes things harder in the long run, compared with doing the work up front and reaping the rewards of that investment.
To stand out among the competition, EV startups and suppliers need to differentiate themselves in their delivery, price and quality—all of which LPAs contribute to. In this highly dynamic environment, they also create a culture of engagement that helps management stay connected to what's really happening on the plant floor.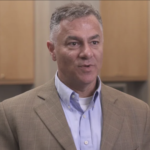 As a senior consultant with The Luminous Group, Richard has more than 18 years of experience in Product Development, Program Management and Manufacturing Management. He has a proven record of success in bringing new technical products to market for clients, a deep knowledge of layered process audits and combines a background in mechanical engineering with a broad knowledge of the global automotive industry.